OPENING TIMES
Friday 11th-18th September:
from 6.30 to 11.00
Saturday 12th-19th September:
from 9.00 to 7.00
Sunday 13th-20th September:
from 9.00 to 7.00
Monday 14th:
from 2.30 to 7.00
Tuesday 15th, Wednesday 16th,
Thursday 17th:
from 9.00 to 12.30;
from 2.30 to 7.00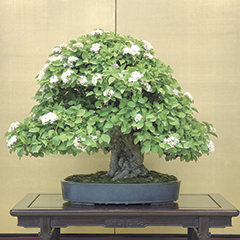 FREE ACCESS
The entrance to all the technical demonstrations, lectures and shows is completely free, like part of the workshops.
During the event it will be possible to visit also the Crespi Bonsai nurseries.
SPECIAL OFFERS
Various items can be purchased at a special price, thanks to the special offers on plants, tools, books and magazines, that Crespi Bonsai proposes for the event.
CRESPI BONSAI MUSEUM
For the length of the event it will be possible to participate in guided visits to

the famous Crespi Bonsai Museum. Founded in 1991 it includes centuries-old trees and even thousands-old trees like the unique Ficus retusa Linn, but also ancient pots.
ORIENTALSHOP
Throughout the event a little market of typical Oriental objects like fans, little

umbrellas, varnishes, incenses and porcelains will be at visitors' disposal. An area will be dedicated to the most ancient drink of the world: the tea, with various mixtures, teapots, cups and accessories from Japan and China.
...TO WIN A BONSAI
Vote the bonsai tree you like best, according to your own judgment, from the exhibition-competition "Enthusiasts' Exhibition". Among all those who will vote, the winner of a beautiful bonsai will be drawn.