Guests
Discover all the prestigious guests who will be present at this edition of Crespi Cup, not only bonsai professionals, but also writers, musicians and designers.
KUNIO KOBAYASHI
"Through bonsai I have been taught many things, they display the beauty of nature in all four seasons and the majesty, grace and power of trees surviving in the harshest of conditions; something which helps me in my life", master Kobayashi says.
Master Kobayashi doing bonsai for more than 30 years and in 2002 he founded a private Museum, the Shunka-en, which collects an extraordinary collection that includes, in addition to magnificent specimens, pots, suiseki, tables and antique books. It is his wish to.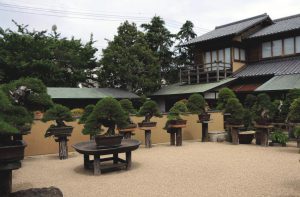 spread the beauty of Bonsai worldwide, who pursues also through the teaching of this art to his apprentices from Japan and from the rest of the world
Born in 1948, Kobayashi is one of the world's greatest living masters, winner of the prestigious award of the Japanese Prime Minister for four times at Sakufu-ten, winner of the Kojuten Satsuki Award for three times and author of 12 masterpieces awarded at the Kokufu-bonsai-ten.
For many years, the master Kobayashi has also approached Suiseki's art and today he has one of the most important roles: the chairman of the Nippon Suiseki Association, an association that from 2015 organizes the most important suiseki exposition throughout Japan and the world, in the prestigious and historic exhibition Kokufu-bonsai-ten.
DAISAKU NOMOTO

Daisaku Nomoto was born in 1976, only three years after the foundation by his father Tsutomu, in 1973, of the nursery Chinshou-en in Miyazaki – Japan. The decision to open a family nursery, becomes concrete just the day of the birthday of his father, after that for generations for his family, bonsai had represented only an hobby, that Tsutomu decides to turn into a profession after studying at the Nakanishi's nursery, famous family of long-standing bonsaists too, today at their 5th generation. Daisaku's future as a bonsai master has been traced since his childhood, growing in contact with bonsai, the art that involved him immediately and taking him in 1995 to start his studies as a student und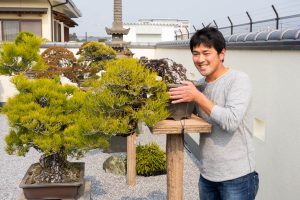 er the guidance of master Kihachiro Kamiya, one of Japan's leading bonsai professionals. After completing his apprenticeship, in 2002 he returned to Miyazaki to start working with his father at the family nursery. From that moment, his notoriety is on
the rise: every year
he travels to San Francisco (USA) to hold workshops, demonstrations, and as a judge at the competitions; In 2016 he participated at the PNCBA Convention in Seattle – USA. This year, in February, he was g uest at the Noelanders Trophy in Belgium, in April at the LBSF Convention in Dallas, USA and always in April during the prestigious 8th World Bonsai Convention of Saitama he held a demonstration on shohin.
NOBUYUKI KAJIWARA
He has been teaching bonsai art in Italy at the Crespi Bonsai University since its establishment in 1992 and he takes care of the development of the Crespi Bonsai Museum masterpieces. He regularly gives lectures and courses in various European and non-European countries, where he also takes care of important bonsai collections. His sensible approach to bonsai trees is the result of the long experience gained in different geographic conditions and of his great respect for nature.
EDOARDO ROSSI
Born in Padua in Italy's Northeast in 1960, he began his career as a musician and has an intense school activity at international level. His fascinating with bonsai began in 1985 and he developed his knowledge further be attending numerous workshops with leading international masters, including: Hotsumi Terakawa, John Yoshio Naka, Susumu Nakamura, Susumu Sudō, Tomio Yamada, Kenichi Abe, Imai Chiaharu, Kunio Kobayashi, Isao Fukita and Arishige Matsuura for suiseki. In 1987 he is one of the founders of the "Euganea Bonsai Association". He is a founder and the president's number two of the "Nippon Bonsai Sakka Kyookai" in Europe. He holds courses and workshops in Italy, and abroad.
He is the author of the book Kazari – The art of displaying bonsai and suiseki (English text) edited by Crespi Editori.
GAETANO SETTEMBRINI
He refined its ability to observe with the use of photography, capturing in the frame of view the artistic aspect of the subject. Over time, the development of visual skills has fostered interest in martial arts, disciplines he has devoted for many years, approaching definitively the Oriental culture. He started to take interest in bonsai in 1988, experimenting with nursery's materials at first and then following courses, seminaries and workshops with Kimura and Terakawa. He is I.B.S' teacher since '98; he regularly hold demonstrations and bonsai courses in many Italian cities. In 2009 he became a member of the Crespi Bonsai staff.
GIACINTO ANDRIOLI

His first approach with the bonsai world was 15 years ago, and after an initial phase as self-taught, he meets Salvatore Liporace, who give him the possibility to work in the bonsai field in his Studio Botanico. Over the years he has received many awards for his activity in Europe and in Italy, winning also the "Best Talent Bonsai". He is currently part of the Crespi Bonsai's staff.
IGOR CARINO
Currently employed at Walt Disney, he worked as planner and art director for Giugiaro Architettura and Richard Ginori and as Chief Designer of the Bertone Design. He is a bonsai maker and a suiseki expert who is a member of the directive council of Bonsai's Art School. He holds courses about ceramics and kusamono at Crespi Bonsai University, at Creative Academy and in some other Italian and foreign associations. He also cooperates with some of the most important magazines of the sector. He has been selected in the pots' design contest at Takagi Bonsai Museum in Tokyo. He makes custom-made pots for bonsais, moon's stone and kusamono. All of his works are traditional Japanese products but reinterpreted with an Italian sensibility, paying attention to materials and design.
RIE TAKEDA – Chazen
Rie Takeda started practicing calligraphy at the age of five under the creative supervision of her grandmother, a distinguished "GAYU – Ryu" calligrapher. Later she began to take lessons in the Gayu calligraphy school. It laid a solid foundation for her development of the SUMIE technique in calligraphic design.  After her art and design studies in Japan and Europe her inspiration and enthusiasm for the new forms of art as well as her knowledge of the traditional Japanese craftsmanship and design, led her to discover the Neo Japonism style. Her last years in Europe have been creatively productive. She was exposed to numerous works of modern art, which resulted in her maturing as an artist. It also resulted in fusing the essence of traditional Japanese art, design and poetry with contemporary art forms. As well as Neo- Japonism painting Rie produces Neo-Sho on canvas, Washi-collages, vintage kimono fabric collages, works in body art, photography and video. She works on several projects and collaborations and exhibitions – both in Europe and Japan.
KAZUKO KATAOKA
Born in Kobe (Japan), after commercial studies, she works for the Shiina Company, dealing with cloth decoration with the "yuzen of Kyoto" technique, which she refined under the guidance of master Shimizu Mitumi. Selected by the Japanese Handicraft Association of the New Artist in the `88, she attains a long series of awards. In 2002 she moved to Italy to present the old yuzen method through her art. She is a yuzen technique teacher at the Prato Cloth Museum. She has performed kimono exhibitions in several Italian places.
SUSANNA MARINO
She teaches Japanese at the University of Studies Bicocca of Milan and Japanese language and culture at the High School of Linguistic Mediator of Varese. She collaborates with some foundations and cultural centers. She is president of the Italia-Asian Center and of Aistugia. Curator and writer, she published for Zanichelli: Dictionary Italian-Japanese, Grammar practice of Japanese; Japanese writing.
She is the official translator of Crespi Bonsai.
YUKIKO OKABAYASHI
Born in Kochi (Japan) in '57, she graduated in music at the "Aichi Prefectual University of Fine Arts". She has been living in Italy since 1984 and currently she is active in the culinary field ad expert in Japanese handicraft confectionery.
AGNÈS PAGANELLI
Lover of origami, he learned the ancient Japanese technique of folding the paper by attending courses and workshops held by various experts.
LUCA RAMPINI
Graduated in piano, he attended numerous specialization courses in the field of music and theater. His career focuses mainly on the experimentation of the synergies arising from the relationship between the various arts, both by developing his own projects and by collaborating with numerous theatrical companies and creative associations.

© 2017 Crespi Bonsai - S.S. Sempione 35, 20015 Parabiago (MI) - Tel 0331 491850 - www.crespibonsai.com - Powered by paxdesign.net