Guests
Discover all the prestigious guests who will be present at this new edition of Crespi Cup, not only bonsai professionals, but also writers, musicians and designers.
HIROAKI SUZUKI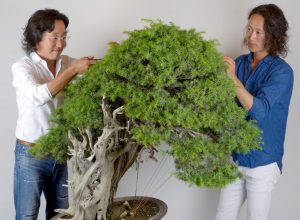 Born September 2, 1991, Hiroaki Suzuki is the eldest son of master Shinji Suzuki. During his high school years, he practiced baseball as a pitcher in the Nagano-shogyo school team. After graduating from high school, he spent seven years at the nursery of Masahiko Kimura, as master's apprentice. After this important training period he returned to the family nursery in 2017. He has participated as a demonstrator in many events as well as in Japan, also in Europe, establishing himself as one of the most promising Japanese bonsai artists.
NOBUYUKI KAJIWARA
He has been teaching bonsai art in Italy at the Crespi Bonsai University since its establishment in 1992 and he takes care of the development of the Crespi Bonsai Museum masterpieces. He regularly gives lectures and courses in various European and non-European countries, where he also takes care of important bonsai collections. His sensible approach to bonsai trees is the result of the long experience gained in different geographic conditions and of his great respect for nature.
SADAMITSU KATAOKA

Sadamitsu Kataoka, born in 1943, is a direct descendant of the man who contributed to raising the status of Tokoname ceramics in 1920: Akiji Kataoka, producer of the homonymous manufacturing of porcelain for bonsai pots, collector and connoisseur of ancient Chinese pots, founder of one of the most famous furnaces in the world, namely Yamaaki.
Sadamitsu Kataoka, after graduating at the Tokoname high school – ceramics section in 1961, joined the family business and continued to study ceramics under the guidance of his father. Since 1985 the ceramics of Sadamitsu Kataoka are signed with the name of Koshousen. He also invented the style of the pots made of "wood grain", that is to say with an irregular surface with the appearance of the wood grain. The quality and value achieved in the realization of the pots by this author are often superior to those of his father, so much so that, for his extraordinary activity as a ceramist, he received from the Japanese government the honor "Order of the sacred treasure silver rays ".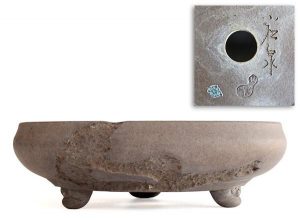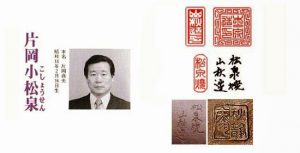 YOICHI NEGISHI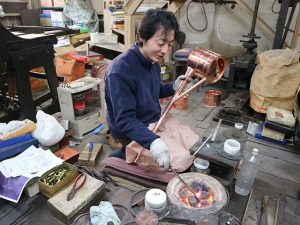 Yoichi Negishi is the third-generation owner of the family's historic company, Negishi Industry Co. Ltd., the only manufacturer of bonsai watering cans in Japan, founded in 1944 by his grandfather. Among his clients also the Emperor of Japan. As well as at home, Negishi bonsai watering cans are widely appreciated abroad, including Europe.
ANTONIO RICCHIARI
He is the most prolific author of texts and studies of the world bonsai scene with 23 publications and over 650 articles. He collaborates with various European magazines and his role in the seminars is mainly didactic, dealing with history and philosophy, aesthetics and design, plant physiology. In 2009 he founded and directed "Bonsai & Suiseki Magazine", the first monthly open-magazine read in all countries of the world. In 1999 he opened his own atelier "Progettobonsai", which deals with the teaching and aesthetics of bonsai. He was, from the foundation until 2015, instructor I.B.S.(Bonsai and Suiseki Instructors College). He is a member of the Nippon Bonsai Sakka Kyookai.
EDOARDO ROSSI
Born in Padua in Italy's Northeast in 1960, he began his career as a musician and has an intense school activity at international level. His fascinating with bonsai began in 1985 and he developed his knowledge further be attending numerous workshops with leading international masters, including: Hotsumi Terakawa, John Yoshio Naka, Susumu Nakamura, Susumu Sudō, Tomio Yamada, Kenichi Abe, Imai Chiaharu, Kunio Kobayashi, Isao Fukita and Arishige Matsuura for suiseki. In 1987 he is one of the founders of the "Euganea Bonsai Association". He is a founder and the president's number two of the "Nippon Bonsai Sakka Kyookai" in Europe. He holds courses and workshops in Italy, and abroad.
He is the author of the book Kazari – The art of displaying bonsai and suiseki (English text) edited by Crespi Editori.
GAETANO SETTEMBRINI
He refined its ability to observe with the use of photography, capturing in the frame of view the artistic aspect of the subject. Over time, the development of visual skills has fostered interest in martial arts, disciplines he has devoted for many years, approaching definitively the Oriental culture. He started to take interest in bonsai in 1988, experimenting with nursery's materials at first and then following courses, seminaries and workshops with Kimura and Terakawa. He is I.B.S' teacher since '98; he regularly hold demonstrations and bonsai courses in many Italian cities. In 2009 he became a member of the Crespi Bonsai staff.
KAZUKO KATAOKA
Born in Kobe (Japan), after commercial studies, she works for the Shiina Company, dealing with cloth decoration with the "yuzen of Kyoto" technique, which she refined under the guidance of master Shimizu Mitumi. Selected by the Japanese Handicraft Association of the New Artist in the `88, she attains a long series of awards. In 2002 she moved to Italy to present the old yuzen method through her art. She is a yuzen technique teacher at the Prato Cloth Museum. She has performed kimono exhibitions in several Italian places. She is also shodō – calligraphy – expert.
SUSANNA MARINO
She teaches Japanese at the University of Studies Bicocca of Milan and Japanese language and culture at the High School of Linguistic Mediator of Varese. She collaborates with some foundations and cultural centers. She is president of the Italia-Asian Center and member of Aistugia. Curator and writer, she published for Zanichelli: Dictionary Italian-Japanese, Grammar practice of Japanese; Japanese writing; Mini Japanese dictionary.
She is the official translator of Crespi Bonsai.
AGNÈS PAGANELLI
Lover of origami, he learned the ancient Japanese technique of folding the paper by attending courses and workshops held by various experts.
YOKO TAKADA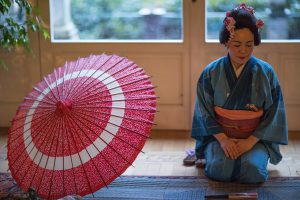 Eclectic Japanese artist, Yoko Takada graduated in music from the University of Hiroshima where she holds a post-graduate master's degree. She has been resident in Italy for several years now. In addition to music and singing, she is a master of Odori dance, the traditional Japanese dance. She is expert of tea ceremony, an art she learned by attending the Urasenke school from the age of 15. She has also specialized in many of the traditional Japanese artistic disciplines, as Shuji – the calligraphy – art in which she earned her 5° dan, ikebana, origami and cookery.
Taeko Murata e Luca Garotta 
Tea in Italy – tea house ubicata a Varese – nasce nel 2013 dal matrimonio fra Giappone e Italia, ma anche fra Taeko e Luca. La loro passione per il tè nasce lontano e segue strade culturalmente molto diverse: per Taeko il tè rappresenta la tradizione, i valori familiari, l'ospitalità, la religione Buddista. Luca, diplomato Tea Sommelier, ha un approccio ed un gusto più europeo per il tè. Per entrambi, però, questo prodotto è speciale e merita un'attenzione del tutto unica. Dal 2018 hanno aperto sempre a Varese un ristorante specializzato in ramen: il "Taeko ramen".
Taeko Murata e Luca Garotta

© 2023 Crespi Bonsai - S.S. Sempione, 35 - 20015 PARABIAGO (MI) - Tel +39 0331 491850 - www.crespibonsai.com
layout by paxdesign